Take better care of your health with community acupuncture.
Our mission is to provide a high quality experience of healing that's accessible to everyone. Learn more about community acupuncture.
What is community acupuncture?
A community acupuncture clinic is a unique model of healthcare where treatments are provided in a shared group setting instead of a private room.
It's a way of experiencing the benefits of acupuncture at a much lower cost than a private session.
Community Acupuncture Melbourne is managed by Ping Ming Health — one of Australia's most trusted clinics dedicated to the professional practice of Chinese medicine since 1992.
Our clinic offers natural therapies based on traditional Chinese medicine including acupuncture, meridian massage and facial acupuncture.
From the moment you arrive, you'll see that we've gone to great lengths to create a space where you are welcome to relax and heal.
What are the benefits of community acupuncture?
Community acupuncture makes treatments more affordable and easily accessible — which empowers people to take better care of their health instead of waiting to get sick.
Our aim is to keep you well by maintaining your health regularly and help you to get back on your feet quickly when injuries happen.
Apart from the benefit of very affordable treatments, community acupuncture also offers a social healing experience that's missing from the "behind closed doors" approach of how we receive healthcare today.
In our community acupuncture clinic, you'll find a very friendly and inclusive atmosphere where treatments take place in reclining armchairs and friends and family are welcome to come together and receive treatment at the same time.
Is it private? What should I wear?
With community acupuncture and meridian massage, there is no need to fully undress as only your arms and legs are exposed during treatments.
However, being treated in a shared space means that you will be seen and may be overheard by others who are receiving treatment at the same time.
If you feel uncomfortable about this then community acupuncture may not be suitable for you. For treatments in a private room setting, please contact our parent clinic Ping Ming Health.
On the other hand, many of our regular clients tell us that they prefer the atmosphere and feeling of receiving treatments in our communal space.
Remember, you don't have to tell your practitioner anything that you prefer to keep private.
Please come wearing suitable loose clothing so that your arms, legs, hands and feet can be easily exposed while you are sitting in an armchair.
From time-to-time, our clinic may host medical students from RMIT University, Torrens University and Endeavour College of Natural Health as we support the training of future doctors of Chinese medicine. If you prefer not to have a student involved in your consultation simply let us know.
Are your practitioners qualified and experienced?
Our fees are affordable because of the unique community acupuncture model of healthcare. You are always treated by a fully qualified practitioner and not students.
Our acupuncturists are doctors of Chinese medicine registered with the Chinese Medicine Board of Australia. They are able to advise you on a wide range of health issues.
Our meridian massage practitioners are qualified, insured and registered with their respective professional associations.
What health issues can you help with?
Our Chinese medicine practitioners are registered doctors of Chinese medicine who can help you with a wide range of symptoms and health issues using acupuncture to bring your body back into balance.
Everyone receives an individual consultation and personalised acupuncture treatment during each visit, and our treatments are practiced according to traditional Chinese medicine diagnosis and treatment principles.
For more serious conditions, our experienced practitioners may refer you to your GP for a check up, or advise you when we think that more extensive Chinese medicine treatment may be beneficial for your health issue.
You can explore the wide range of health issues we can assist with on our Conditions We Treat page.
How long are the treatments?
Acupuncture treatments are usually 45 minutes to 1 hour.
Meridian massage treatments are according to the booked time, either 20 minutes, 40 minutes or 1 hour.
Allow 45 minutes to 1 hour for combined treatments.
If you need to leave by a certain time, please let our practitioners know in advance.
Are there any side-effects of acupuncture?
Serious side effects from acupuncture treatment when provided by qualified Chinese medicine practitioners are extremely rare.
You may experience minor bleeding, bruising, redness or lumps over certain points. These skin reactions are normal and will resolve by themselves.
Certain conditions may be temporarily aggravated immediately following treatment.
Remember, you can contact our clinic to speak with your practitioner if you have questions or concerns at any time following your treatment.
Do you provide treatments other than acupuncture?
We offer acupuncture, meridian massage, scrubbing (gua sha) and facial acupuncture treatments from our community acupuncture clinic.
Our practitioners may recommend Chinese herbal medicine for certain conditions and at times when a health problem doesn't respond to acupuncture alone.
For our complete range of Chinese medicine treatments and services, or treatment in a private clinic, please get in touch with Ping Ming Health Melbourne.
Can I claim a private health rebate? Do you bulk-bill?
Yes, you can submit our receipts for acupuncture to your private health fund to claim a rebate.
Note: private health rebates are only applicable for acupuncture and not meridian massage.
We don't bulk-bill because Medicare does not rebate acupuncture treatments provided by Chinese medicine practitioners.
Community Acupuncture Pricing
Our clinic has been designed from the ground up to provide a quality and affordable acupuncture experience for everyone.
First Visit
$78 Weekdays
$90 Saturdays
Chinese Medicine Acupuncture
Initial Consultation & Treatment

---

Meridian Massage 40 mins

---
Return Visits
$39 Weekdays
$45 Saturdays
Other Treatments
$78 Weekdays
$90 Saturdays
Co-Treatment of Acupuncture & Meridian Massage

---

Channel Scrubbing (Gua Sha)

---

Cupping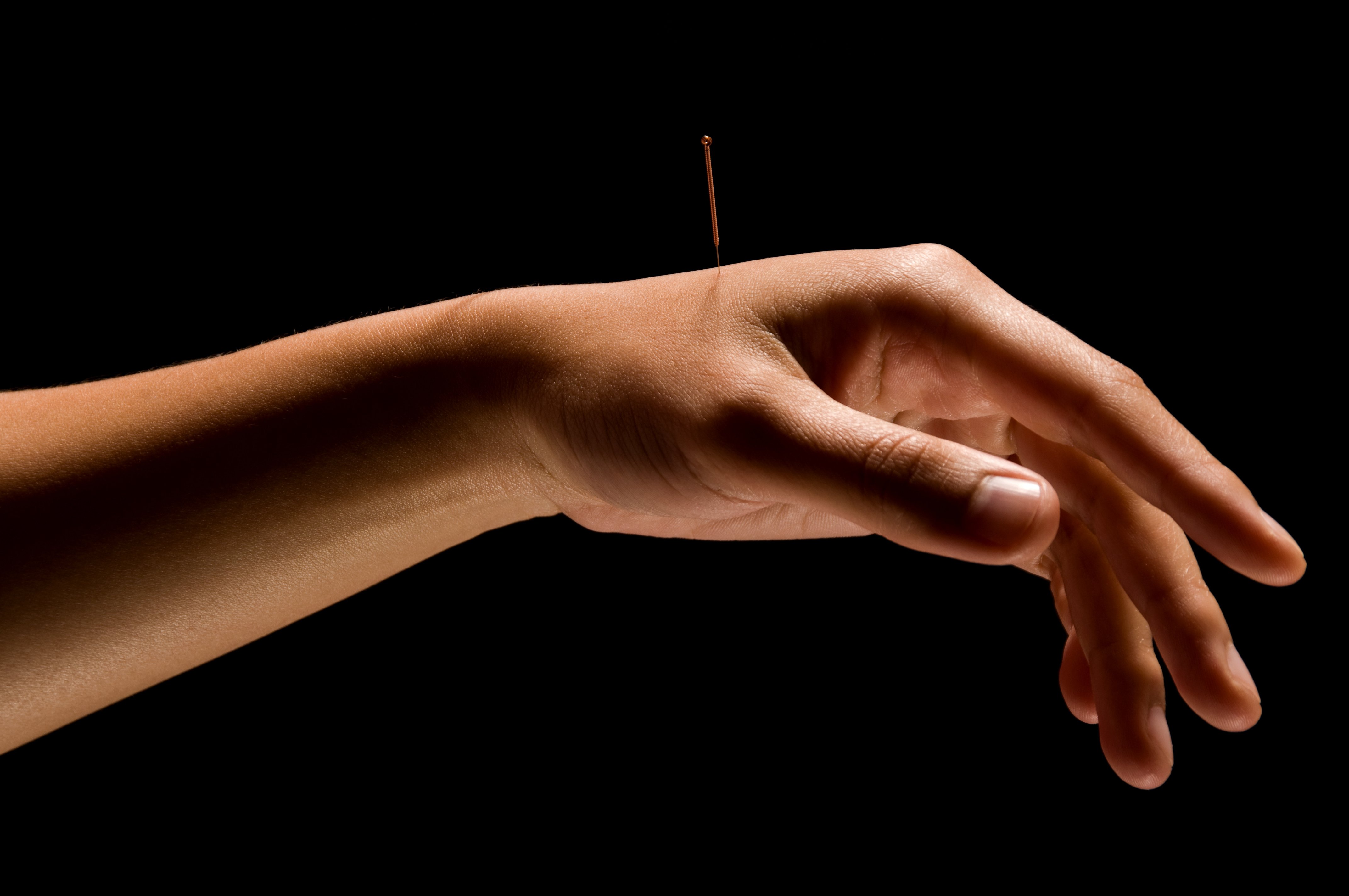 Acupuncture is a 2,000 year old personalised medicine that's fit for the 21st century.
Acupuncture: a natural way to better health.
Inscribed by UNESCO as an Intangible Cultural Heritage of Humanity, acupuncture is one of the world's oldest and most widely practiced medical systems belonging to traditional Chinese medicine.
In recent decades, it has rapidly become a popular natural and complementary therapy in the western world known for its personalised approach to diagnosis and treatment.
Acupuncture activates the body's own self-healing mechanisms to relieve pain and stress, reduce inflammation, improve circulation, rebalance hormones and strengthen the internal organs to better health.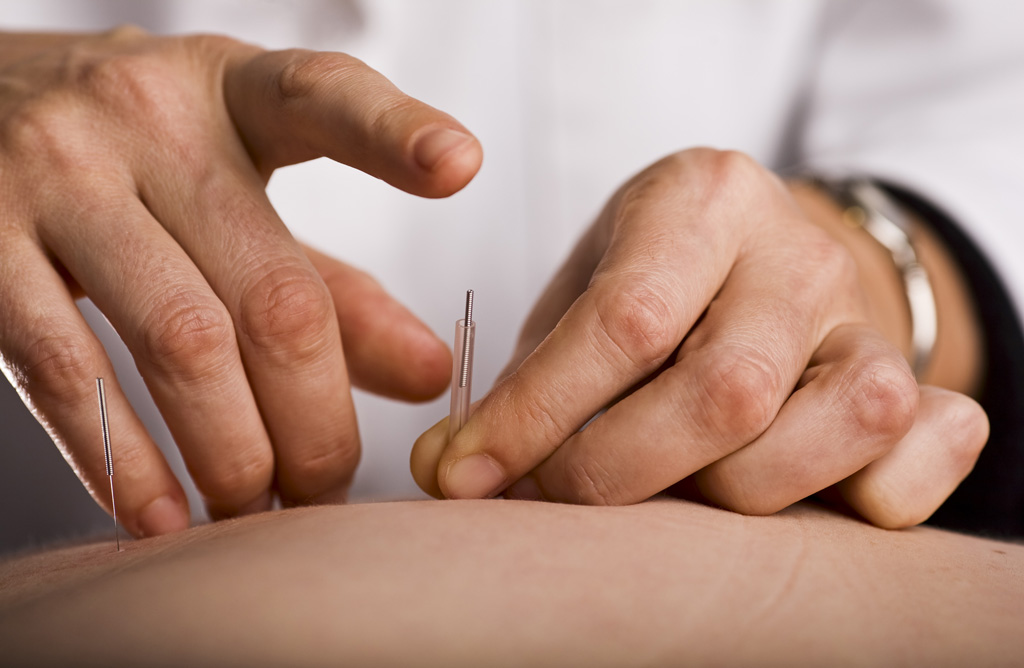 "There is evidence that acupuncture influences the production of and distribution of a great many neurotransmitters and neuromodulators, and that this in turn alters the perception of pain." David Eisenberg M.D.
Clinical Research Fellow,
Harvard Medical School
Let's de-mystify this ancient medicine for modern times.
Over 2,000 years ago, the ancient Chinese physicians made one of the most profound discoveries of medical knowledge that is known today as the meridian system.
However, over the past century since Chinese medicine was introduced to the western world, its concepts such as "Qi flowing in meridians" have become lost in translation. There are some people today who regard acupuncture as an energy-based and un-scientific medicine — an idea which could not be further from the truth.
The meridian system is actually a neurological map of how the body's organs, muscles and tissues are connected to each other by the nervous and circulatory systems. Expert acupuncturists trained to use the meridian system can appear to be working magic when the truly amazing thing is the body's self-healing ability at work.
Featured Research
Defining Meridians: A Modern Basis of Understanding
John C. Longhurst
Samueli Center for Integrative Medicine, Departments of Medicine, Physiology and Biophysics, Pharmacology and Biomedical Engineering, Schools of Medicine and Engineering, University of California, Irvine, USA
---
EXCERPT
More recently, modern physiologists have put forward the "neural hypothesis" stating that the clinical influence of acupuncture is transmitted primarily through stimulation of sensory nerves that provide signals to the brain, which processes this information and then causes clinical changes associated with treatment.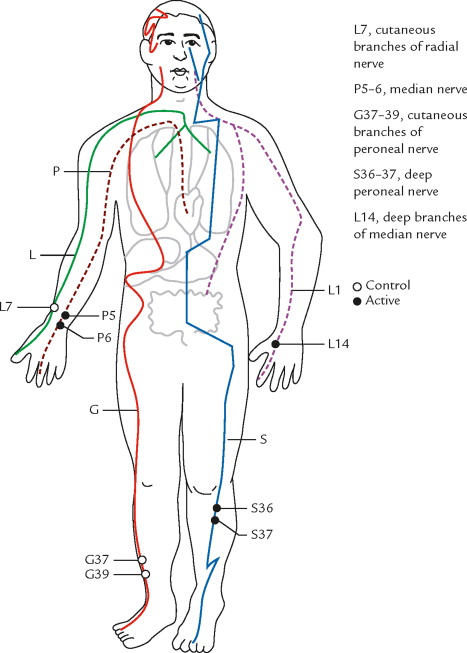 Figure 1. Diagram of meridians and acupuncture points (or acupoints) that have been studied with respect to the cardiovascular influence of electroacupuncture.
Although additional research is warranted to investigate the role of some of the structures identified, it seems clear that the peripheral and central nervous system can now be considered to be the most rational basis for defining meridians.
The meridian maps and associated acupoints located along them are best viewed as road maps that can guide practitioners towards applying acupuncture to achieve optimal clinical results.
---
Journal of Acupuncture and Meridian Studies Volume 3, Issue 2, June 2010, Pages 67-74 Read Full Article
Have you experienced the real thing?
There is a real difference when acupuncture is practiced by Chinese medicine practitioners — the traditional masters of acupuncture.
Current health laws in Australia don't protect the public from unqualified or inexperienced practitioners who may be using and inserting acupuncture needles, sometimes by another name. For example, "dry-needling" is not a form of acupuncture endorsed or practiced by the Chinese medicine profession.
Our acupuncturists are degree qualified Chinese medicine practitioners registered with the Chinese Medicine Board of Australia. The Board, supported by AHPRA, is Australia's peak governing body that regulates the Chinese medicine profession and protects the public.

"It is by virtue of the twelve channels that human life exists, that disease arises, that human beings can be treated and illness cured. The twelve channels are where beginners start and masters end." The Classic of Acupuncture
Circa 1st Century BCE